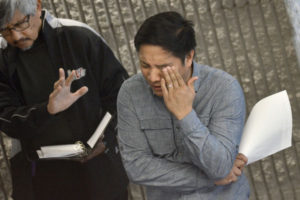 Large turnout at Day of Prayer
POWER OF PRAYER: Aldean Pablo, assistant pastor at Eastview Wesleyan Church, takes a turn leading a prayer during the National Day of Prayer event at the Marion Municipal Building on Thursday.
Friday, May 5, 2017 6:00 am
Almost 60 people bowed their heads in prayer at Marion City Hall Thursday afternoon.
Coinciding with the annual National Day of Prayer, city and county government workers, council members, sheriff's officers and local residents convened in the lobby of the city building to pray for the well-being of Marion, Grant County and more.
Marion Mayor Jess Alumbaugh said he was pleased with the turnout and the diversity of people that attended, including the eight local religious leaders that prayed aloud.
"I was pleased to see so many people that understand and value the power of prayer," Alumbaugh said.
A joint resolution by Congress, signed by then-President of the United States Harry S. Truman, established a National Day of Prayer every year, according to the National Day of Prayer Task Force. An amendment to the law in 1988 permanently set the day for every first Thursday in May.
Originally scheduled to take place outside the city building, the local commemoration took place indoors due to weather conditions. The harsh rain and winds, however, did little to deter people from participating.
Jeffrey Jahn, pastor of Westminster Presbyterian Church and chaplain for the Marion Fire Department, began by giving a prayer of thanksgiving and repentance.
He prayed for the heroin epidemic in Grant County and asked God to teach families to come together in support of one another.
"We have lots of chaos (in our community)," Jahn prayed, mentioning financial and workforce chaos in particular. "But we are looking to you (God) to bring us order."
Every pastor was assigned a specific topic to pray about.
Following Jahn, Pastor Al Green of Calvary Missionary Baptist Church prayed for local, state and federal government; Dawn Jones of Alabaster Box Ministries prayed for military and veterans; Marion Police Department Chaplain Mark Bardsley prayed for media and news reporters; and Aldean Pablo, assistant pastor of Eastview Wesleyan Church, prayed for local businesses.
Jim Lo, campus pastor intercessor at Indiana Wesleyan University, followed Pablo with a prayer for education. Grant County Sheriff Department Tom South prayed for local churches, and Pastor Colleen Harden of the First United Methodist Church ended with a prayer for families.
Alumbaugh emphasized the importance of prayer in addressing Grant County needs, citing the second half of James 4:2, which states in the King James Version of the Bible, "Ye have not, because ye ask not."
"The best weapon we have for change is prayer," Alumbaugh said.
Marion city officials still pray every Monday morning, or the first working day of the week if Monday is a holiday, at 7:30 a.m., he said, in the Marion city council chambers.